NBA Resources
Helpful and Interesting OEB Related Information
If you have a question you feel should be listed on this page, feel free to send it to us and we will answer it on this page.
Common Questions
How Do I register my OEB?
If you have puppy papers you fill in the form & mail it along with payment to the address listed on the form. If you have an adult that is currently registered with another registry you fill out a single dog registration application, include copies of your current registration and pedigree and mail it to the address listed on the single dog registration application. If you have a litter that you wish to register with the NBA you may use our online litter registration (only if both parents are NBA registered) or you may mail in a litter registration application. If either parent is not registered through the NBA, you will need to contact the NBA to discuss your options.
What does the term "foundation" mean?
Foundation is a term used to describe dogs that are used to originate a line or breed of dog that may be comprised of various crosses of outside breeds. A foundational dog is not a purebred, but is a dog used as the foundation in creating a purebred line or breed of dogs. All breeds originate from foundation stock and the NBA records all foundation and generational statuses to ensure accurate information for its clients.
We often receive questions about the procedure for recording foundation breedings. As a result, we have comprised various pedigree examples to illustrate the method inwhich such foundation breedings are recorded. Visit the links below to view the examples.
Why is my dog's sex listed as "DOG" on my NBA papers?
The proper terminology for dogs in regards to their sex is to refer to males as dogs and females as bitches. This is correct and proper terminology and we use this terminology to record the sex of each dog in our system.
Can OEBs Swim?
Yes they can and most of them find it very enjoyable
Are OEBs Easy To Train?
OEBs are very intelligent and are generally very eager to please. They learn quickly and respond best to positive reinforcement.
What Is The Difference Between The OEB & The EB?
The OEB is a healthier and more athletic dog. They are free breeding, free whelping and are capable of athletic activity. The OEB is built to function and is capable of running, swimming and taking long walks. The OEB is a recreation of the 18th century bulldog once used in the sport of bull-baiting. As bull-baiting was banned, show fanciers bred the Old Bulldog down to create a particular look for the show ring, thus creating the modern AKC Bulldog. The health of the AKC Bulldog reflects the focus on looks and the negligence of function. The Olde English Bulldogge was bred for health and function.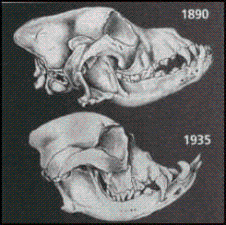 This Photo depicts the skull of an 18th century Bulldog & an EB
Notice the transition in overall appearance as the Old Bulldog was bred down
Helpful & Interesting Articles
Establishing & Keeping Alpha Position
More Information Coming Soon!!